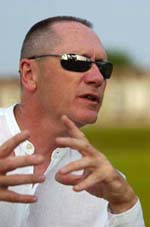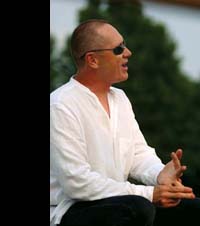 James Mason (President/CEO and Artistic Director/Composer/Arranger for Mason Entertainment Group)


Recipient of the 2001 Tony Award for Best Theatrical Event (BLAST!) and nominee for two 2002 National Broadway Theatre Awards - Best Director (BLAST!) and for Best Musical (BLAST!). A lifetime veteran of drum and bugle corps and other musical activities, Mason marched in a World Championship drum corps and then directed the Star of Indiana to the World Championship title in 1991. Mason has been the creative driving force behind Star of Indiana/Blast Inc. since its founding in the fall of 1984 and served as its President/Executive Director and Program Coordinator. He also created and directed an All Star Corps that received national visibility through appearances in the Cotton, Orange and Fiesta Bowl parades and the Macy's Thanksgiving Day Parade. In 1989 and 1990 he produced and directed the first opening ceremonies for the Summer Music Games World Championship. In 1994 he created Brass Theater which featured The Canadian Brass with appearances by Nexus and played at Lincoln Center, Hollywood Bowl and Tanglewood. Mason has produced and created entertainment for Disney's Epcot Center and California Adventure theme parks along with the NBA All Star Game, US Open Tennis Championship and countless other sporting and corporate events. His company, Mason Entertainment Group (MEG) has been responsible for the creation of the theatrical productions BLAST! (Tony¨, Emmy¨ award winners), Shockwave, Cyberjam and M.I.X. (music in x-treme).
Donnie Vandoren (COO of MEG and Casting Director)


has been involved in the drum and bugle corps activity for more than 35 years, and the Star of Indiana/Blast organization for more than 20 years. Throughout his career, he has worked with numerous musical organizations. Under his leadership as a brass manager, he has developed several world championship brass programs and is noted for his relentless pursuit for perfection and his commitment to excellence in brass performance. Donnie came to the Star of Indiana organization as the brass manager in 1986, and has been a part of the organization's evolution from what was a competitive drum and bugle corps to what is now theatrical stage productions (i.e. Blast, Shockwave, Cyberjam, and MIX). He was inducted into Star of Indiana's Wall of Fame in 1997, inducted into the Cadets of Bergen County's Hall of Fame in 2002, and in 2004, was inducted into Drum Corps International's Hall of Fame. A native of Easton, Pennsylvania, Donnie relocated to Indiana in 1998 to fully commit to the Blast project. In addition to being the Casting Director for Blast and MIX, he is also the Chief Operating Officer for Mason Entertainment Group. He holds a Bachelors degree in business administration from Villanova University.
Jonathan Vanderkolff (Staging Director, Choreography, Composer)


is one of the original creators of Blast, Shockwave, Cyberjam and Blast2 M.I.X and has been a member of the Blast/ MEG organization for the past 13 years. Jonathan, along with the choreography team received an Emmy award for the PBS broadcast of Blast. They were also nominated for the 2002 Tony Award and 2002 National Broadway Theatre Award in Choreography. A native of Kitchener, Ontario, Canada he has been the stage director, choreographer and composer for many award-winning productions throughout the world. Jonathan graduated with an honors degree in music theory from the New England Conservatory in Boston.
Jefferson S. Lee (Music Director, Composer/Arranger, and MIDI programmer)


Jeff's involvement with Blast began in 1999 as a percussion and electronics arranger and composer. Following Blast's London premier, Jeff was hired to compose new music for the show as well as become more involved in the overall percussion design. In addition to Blast, Jeff has been involved with many other M.E.G. products including Shockwave, CyberJam and M.I.X. In 2003 Jeff moved from the San Francisco area of California to work as the Music Director for Mason Entertainment Group. Originally from Albuquerque, NM, Jeff completed his Master of Arts degree (with distinction) in percussion performance from the studio of Dr. Steven Schick (CSU, Fresno).

Jeff's musical career has evolved from that of performer to band director to freelance arranger, composer, educator, and clinician. Jeff is proud of his previous work as a percussion and brass arranger/composer for the Concord Blue Devils and his contributions to a collective 14 first place Drum Corps International full ensemble, I&E and high percussion awards. Jeff has been a composer and arranger for a number of WGI color guards and percussion ensembles and worked with groups such as The Woodlands, James Logan, Clovis West and Etiwanda high schools, Riverside Community College, as well as the Renaissance Vanguard, Yamato, and the Yokohama Scouts drum and bugle corps in Japan. Jeff and Mason Entertainment are extremely proud to be partners with, and endorse, the musical products/services of Yamaha, Vic Firth, Remo, Alternate Mode/KAT, Sibelius, Music for All/ Bands of America, VH1's Save the Music, Diamond Time Music & Media, and Zildjian.